Export PCB In PDF/PNG/SVG
Exporting a PCB design or footprints from EasyEDA is very similar to exporting a Schematic or a Symbol.
Using:
Document > Export > PDF/PNG/SVG…
you can open this dialog:
You can select to export in PDF, PNG or SVG format.
Note: If you want to print the PCB 1:1 with the paper, you need to choose to export PDF(1:1).
You can select to print individual layers or selected layers merged into a single file.
It is also possible to mirror selected layers for example to show bottom layers in easily readable orientation.
Export PCB In Altium Designer Format
EasyEDA support exporting the PCB in Altium Designer format.
Via "Documents > Export > Altium…".

When open the exported PCB file at Altium Designer, there will open a dialog of DXP Import Wizard, don't worry, just cancel it to continue.
And then, you will see the PCB file, which is looks like without copper area as below:
At now, you need to repour all polygons at Altium Designer. Via: Tools > Polygon Pours > Repour All:
And the last, save it.
If you export the PCB without tracks, you need to show all connections first before routing :
Via: Design > Netlist > Clean All Nets (D > N > A),and then (V > C > S)
Or use hotkey: N > H > A and then N > S > A:
Tips: EasyEDA don't support to export the PCB libraries in Altium Designer format, but you can place the PCB libraries to the PCB, and export that in Altium Designer format, and then extract them at Altium Designer.
Download PCB
You can download the PCB when it is opening, via:
Document > EasyEDA Source…, click the download button, you will get a .json file.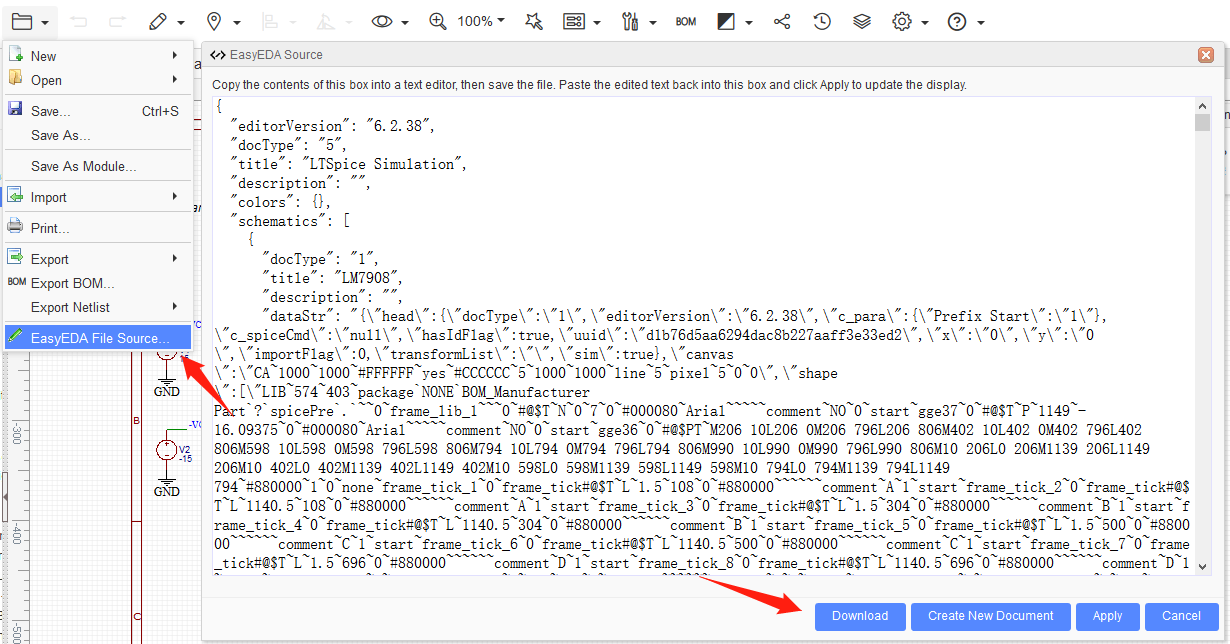 Or Project > Right Click > Download Project, you will download a zip file with EasyEDA Source files for Schematics and PCBs.
Print for Etching
If you don't want to order your PCBs from EasyEDA then maybe - for single and double sided PCB designs - you might like to try like using some home made PCB tech:
http://hackaday.com/2012/12/10/10-ways-to-etch-pcbs-at-home/
So here's how you can print your PCB layer by layer and then etch it onto a PCB.
Step 1) Export it to PDF, Using: Document > Export > PDF…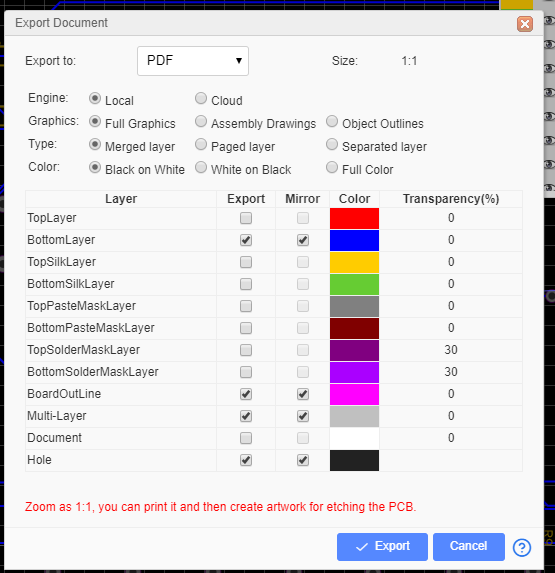 Note: Make sure the Colour is Black on White Background.
Step 2) Open the pdf file in a viewer
Step 3) Print it to paper
Step 4) Copy it to the copper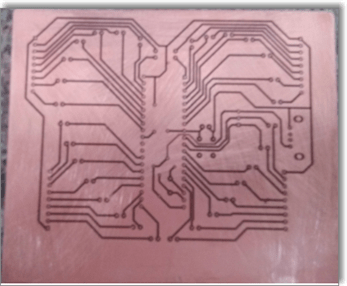 Step 5) Etch it.
Step 6) Drill it …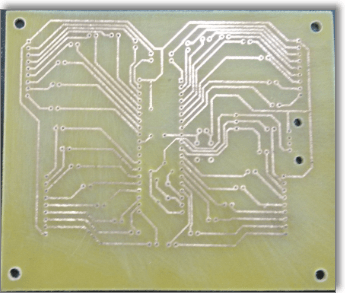 Step 7) Get your soldering iron out!
---